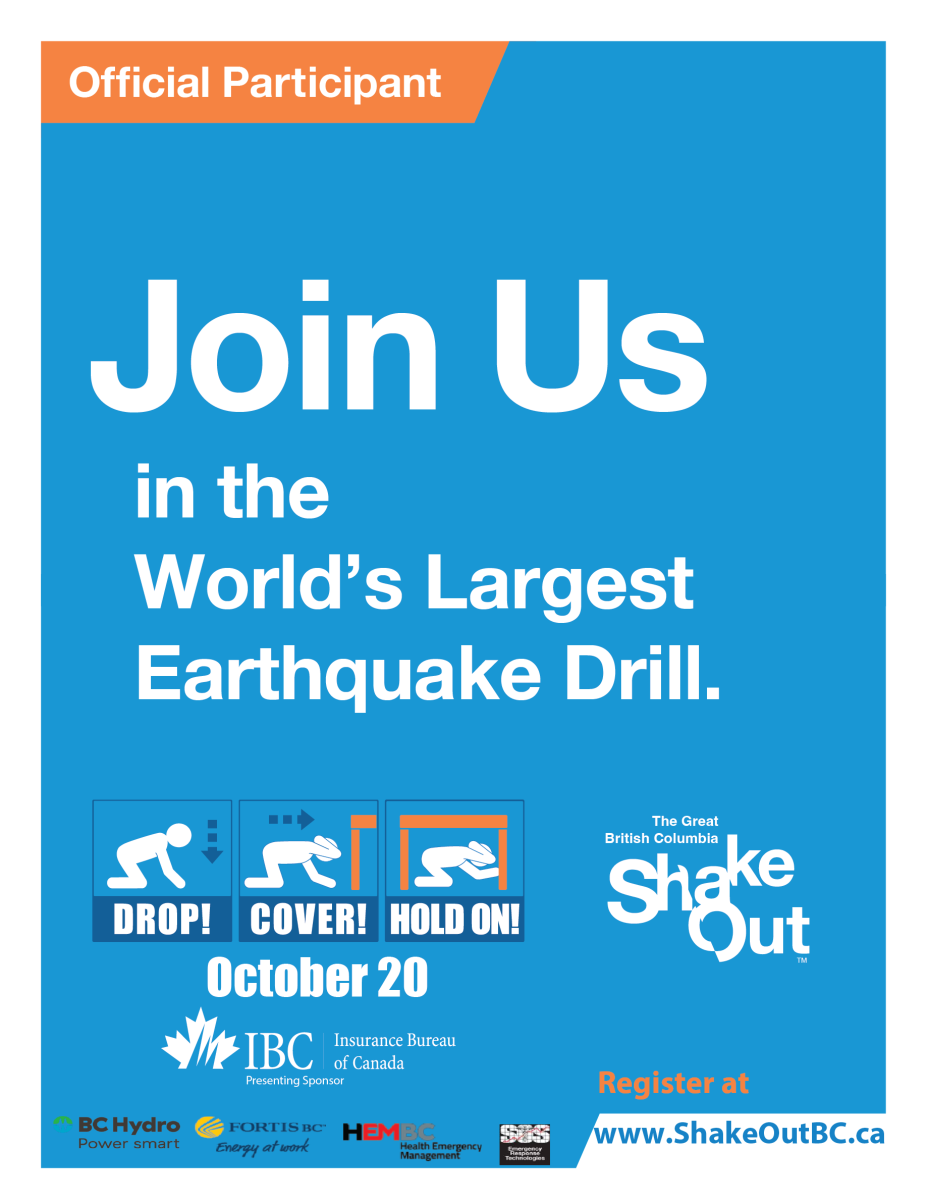 English
The Great British Columbia ShakeOut is an annual opportunity to practice how to be safer during big earthquakes: "Drop, Cover, and Hold On." The ShakeOut has also been organized to encourage you, your community, your school, or your organization to review and update emergency preparedness plans and supplies, and to secure your space in order to prevent damage and injuries.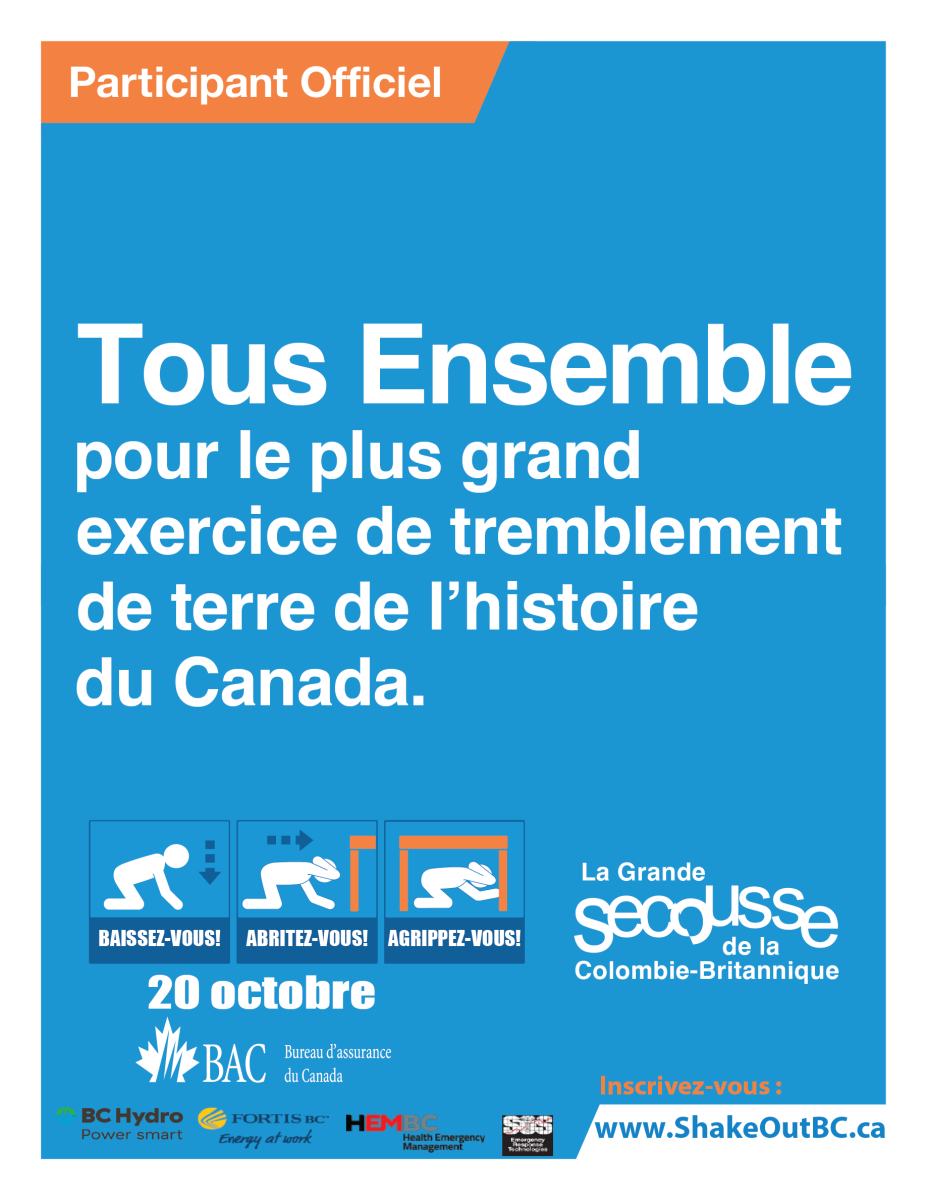 French
Le Great British Columbia ShakeOut est une occasion annuelle de s'entraîner à être plus en sécurité lors de grands tremblements de terre : « Drop, Cover, and Hold On ». Le ShakeOut a également été organisé pour vous encourager, vous, votre communauté, votre école ou votre organisation, à revoir et à mettre à jour les plans et les fournitures de préparation aux situations d'urgence, et à sécuriser votre espace afin de prévenir les dommages et les blessures.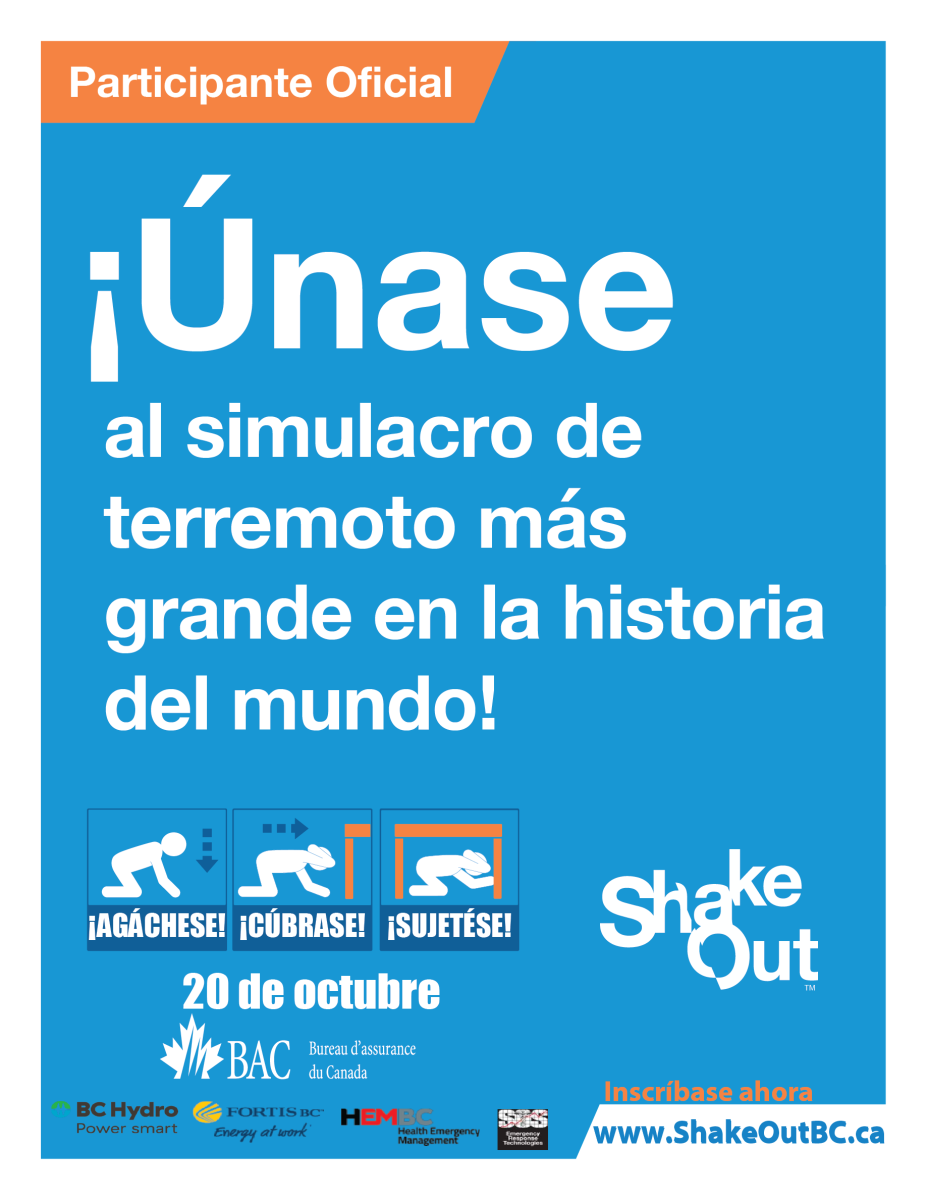 Spanish
El Great British Columbia ShakeOut es una oportunidad anual para practicar cómo estar más seguro durante los grandes terremotos: "Agáchate, cúbrete y agárrate". El ShakeOut también se ha organizado para alentarlo a usted, a su comunidad, a su escuela oa su organización a revisar y actualizar los planes y suministros de preparación para emergencias, y asegurar su espacio para evitar daños y lesiones.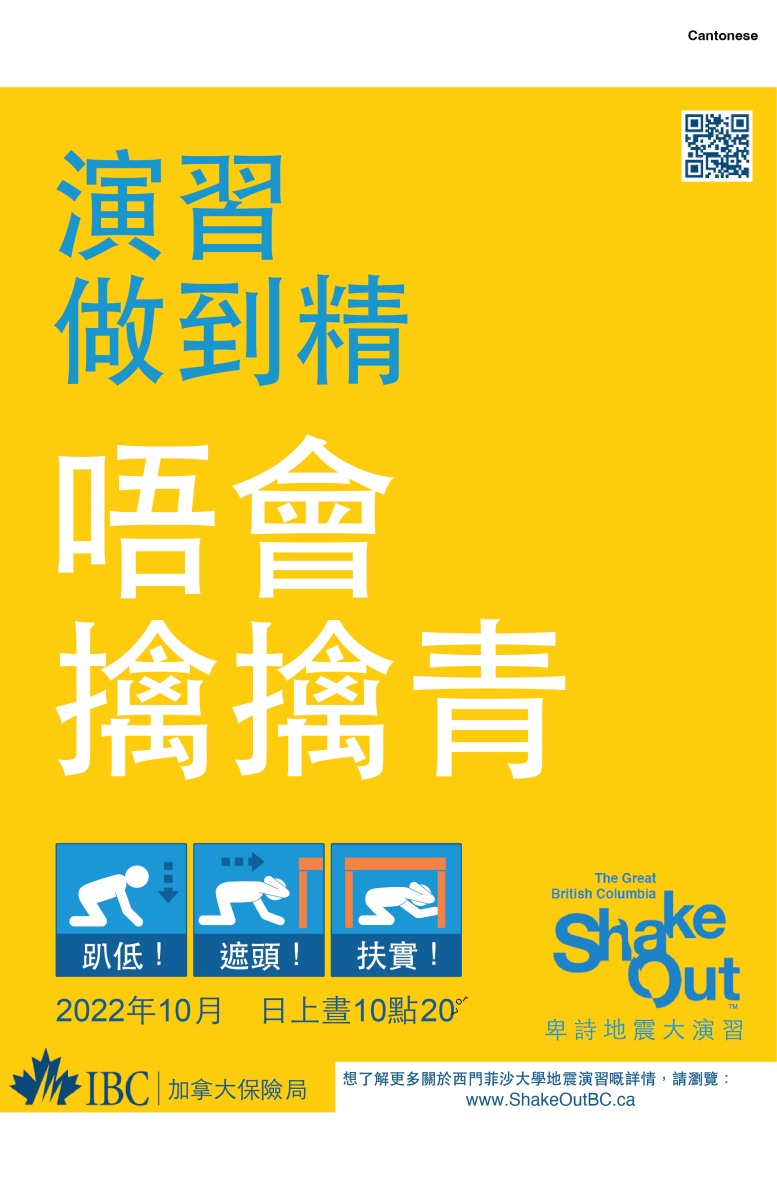 Cantonese
不列颠哥伦比亚悭大地震演习系一次一年一度嘅机会,可以练习点喺大地震中更加安全:"放低、掩护同坚持"。此次演习仲旨在鼓励你,你议员、你嘅学校或者你嘅组织审查同更新应急准备计划同物资,并确保你嘅空间安全,以防止损坏同伤害。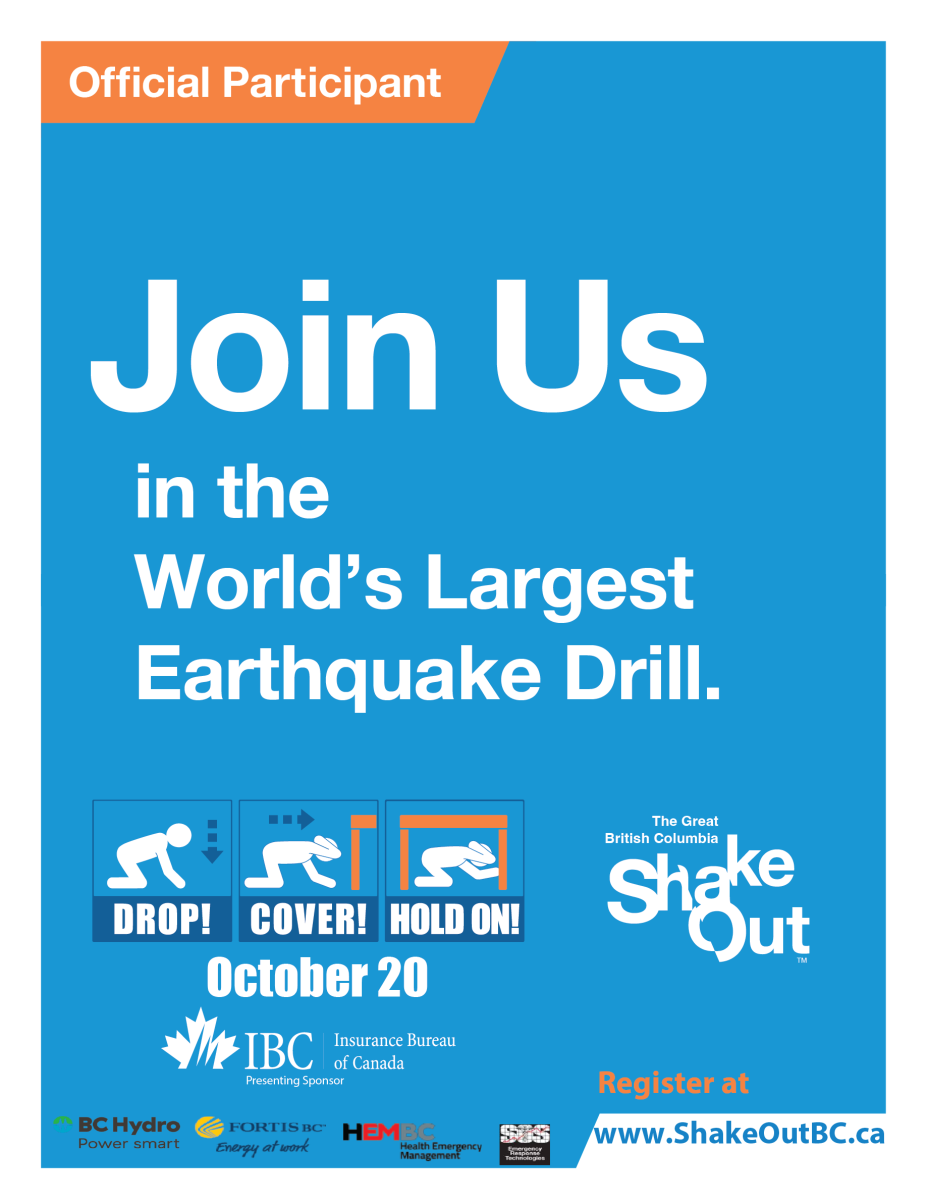 Punjabi

Mahāna briṭiśa kōlabī'ā śēka'ā'uṭa vaḍē bhucālāṁ daurāna surakhi'ata kivēṁ rahiṇā hai isa dā abhi'āsa karana dā ika sālānā maukā hai: "Ḍraupa, kavara, atē hōlaḍa āna." Śēka'ā'uṭa dā āyōjana tuhānū, tuhāḍē bhā'īcārē, tuhāḍē sakūla, jāṁ tuhāḍī sasathā nū aimarajainsī ti'ārī'āṁ dī'āṁ yōjanāvāṁ atē sapalā'ī'āṁ dī samīkhi'ā atē apaḍēṭa karana atē nukasāna atē saṭāṁ nū rōkaṇa la'ī tuhāḍī jag'hā nū surakhi'ata karana la'ī utaśāhita karana la'ī vī kītā gi'ā hai.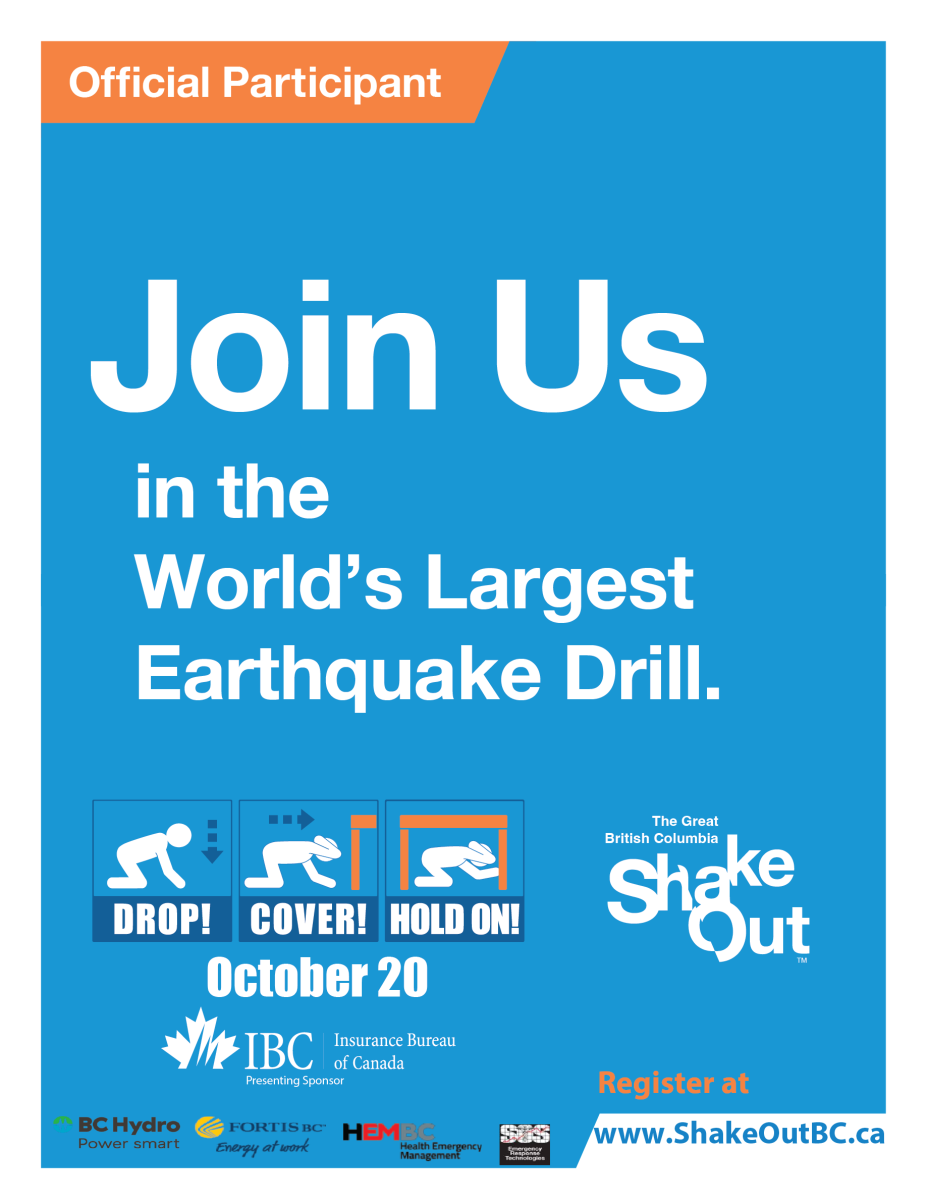 Arabic
هزة كولومبيا البريطانية الكبرى هي فرصة سنوية لممارسة كيف تكون أكثر أمانا أثناء الزلازل الكبيرة: "إسقاط ، تغطية ، وعقد."كما تم تنظيم هزة لتشجيع لك ، مجتمعك ، مدرستك ، أو مؤسستك لمراجعة وتحديث خطط التأهب لحالات الطوارئ والإمدادات ، وتأمين المساحة الخاصة بك من أجل منع الأضرار والإصابات.
Over 67.9 Million Participants Worldwide
Participants in BC Last Year:700 Thousand
Who's Participating? Click on a region on the map of BC to see the region specific participation tally.
Join the Drill Don't miss out, register by Dec 31st.
Current BC Wide Total 695,737
Cariboo 1,952
Kootenay 2,739
Lower Mainland 501,705
Nechako 603
North Coast 5,186
Northeast 1,403
Thompson Okanagan 20,780
Vancouver Island / Coast 150,013